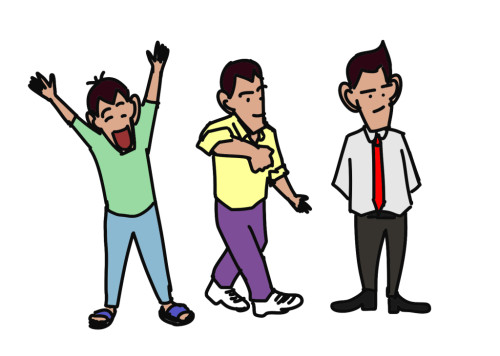 Continuing our MBA Mondays series on The Management Team, we are deep into the guest post phase. This guest post comes from AVC regular Phil Sugar. I've never met Phil, but his comments here at AVC tell me that he's a very experienced entrepreneurial manager. And so I reached out to him to ask for a guest post. And he responded with this post below. There are so many great lines in here, I'm tempted to reblog a bunch of them.
---
Best Friends, Buddies, and Co-Workers
Since there is no way I am going to be more insightful than Matt or JLM about management process, I am going to go through three early stages of company growth and describe some of the management challenges I've faced at each.  As Fred pointed out in his original post, a company's management evolves.  This is purely environmental, it's going to happen and you are much better off knowing what to expect.
At a very early stage: a couple of gals in a garage, nothing gets done unless somebody goes out and does something.  No customers are going to call, no partners are going to want to meet, no bankers, lawyers are going to reach out.  Everything is outward.  Nothing happens unless you do something and frankly anybody calling in to you is probably suspect but that's another post.  You know exactly what each person is doing because there are so few of you.As the company becomes a leader in its market with a hundred or so employees, everything is incoming.  Everybody wants a piece of your time, everybody is calling.  You have departments with managers that are larger than your original company.  Managing is critical because of the leverage; the difference between a dozen well managed people in a department achieving goals and a dozen people going in different directions is huge, people specialize in very distinct areas.It is a gut wrenching challenge to go from one to another.  Once you decide to make the leap from one stage to the next, going back is excruciatingly painful if not fatal.  You can't hope to meander from one stage to the next because it is a chasm.  It doesn't mean you have to go to the next stage, many companies are better off not leaping, they are a "lifestyle business" serving a small market, but you better know, not hope the market is big enough to go to the next stage.  Once you scramble these eggs it's tough to go back, the producers will burn out and the management layer will try to hang on for dear life when you're caught in the middle.
I'll start with three management philosophies that stay constant for me.  Understand that once a company gets past 100 or so employees, my skills don't apply I'm the guy leaving so the company can scale.
I am in charge of recruiting.  I will have somebody managing the process as we grow; departments do the interviewing, but bottom line, if my people are better than your people I win.  College football is a great analogy.  Look at the top coaches.  They always win because they have the best talent.  In college the players pick the team, in the pro's the teams pick the players.  You bet Nick Saban goes on recruiting trips.  Don't for a second be lulled into the notion that you are picking employees.  They are picking you and you better be the one they want to pick.  You better have an on-boarding process and it better be good.  My biggest legacy is the network of people I've hired and what they've gone on to do.
I go on as many sales calls and customer visits as I can.  I've been told that once I hire a Head of Sales, I should stay out of the process.  I totally disagree.  I am not going to be the one managing the process, but I want to hear what the market is saying directly.  A salesperson can't be objectively assess the market, they are too close, their livelihood depends on the sale, same for the VP.  They have to be optimistic, they have to try and make the fit whether it's pushing the company to do something or pushing the customer to accept something.  The best information you are getting from them on your market is second-hand hearsay.  I've sat on boards and watched as projections get trashed as sales get pushed from one quarter to the next and the CEO sits by helplessly, not knowing why as they weren't on the calls.  I am not going to be that guy.
The top producer makes more than the manager.  If the only way people think they can make the most money is to manage you lose your best producers in sales and development, and they generally don't make good managers, they are just too good at doing.  This is the only way you can keep the producers happy, it's the same in pro-football: great players make more than the coaches.  The very important corollary is that everybody knows everybody's salary no matter how hard you try, so you can't fake it.
Best Friends:  When you are a handful of people trying to make something out of nothing there are no management challenges.  Everybody knows what everybody is doing and everybody does anything.  The real challenge is do you have a team with the right skill-set to complement each other and just get the job done and is the market there?  Nothing less than total blind commitment works at this stage.  If you achieve your goal, get traction and the market smiles on you remember these people.  They are the team that you came on the field of battle with against great odds and succeeded.  You don't leave the field without them.  You help position and grow them.
Buddies: This is when you have up to twenty people.  People say you can only manage eight, but I think if you've hired great people that can stretch to twenty.  You are going to have department leads but they aren't really managers as much as they are the leading producer or a manager that is back in the role of producing.  In this stage the biggest challenge is getting the right mix.  You need people that are willing to work their tail off to get to the next level and you need people that are used to working at the next level that are willing to go outbound because they believe in the vision.  I.e. roll up their sleeves and code, carry a bag etc.   A big challenge is some of those senior people don't fit into your current salary structure because of their work history.  The lesson I've learned over and over is to either pay the salary and move other people up or not pay the salary.  Paying the salary and not moving people up means:  "I put in huge sacrifices and now you bring in some guy from outside and pay him what?"
You are going to have to start tracking commitments because there is going to be interplay between small departments.  Don't run the company with email, setup a process.  Set the stage where the only people that can make commitments are those that are delivering.  Sales can't be committing for development, development has to take sales input.  Orchestrate between the departments.  Don't let one area dominate over the others.  That's tempting to do especially in the area where you are strong.
Keep administration as simple and lean as possible, try and think how do I make things simple and cheap? Not we need to act big and big is complicated and expensive.  Remember your biggest strength is your agility, don't lose it.  You can make the wrong decision three times and get it right on the fourth faster than BigCo can make a decision.  Keep meetings short and tight, there should be minimal meetings of internal employees only, nothing happens inside your office.   If you are like me you need to find a good operations person, one that manages all of the details.
Co-Workers: Now you've decided to make the mad dash from 20 to 100 employees.  The reason it's a mad dash is because you will have to put in all the overhead of formal departments and management but you won't have the revenue and people to offset the cost.
People are going to try to build fiefdoms.  Keep it lean, keep it flat.  Always make sure that you have one less person in each department than people think you need.  Keep politics out of it.  Make sure people realize that if they complain about somebody without going directly to them first, they most likely might be the person in trouble.
There are going to be resentments if people get passed by, hopefully they'll be few; there are going to be issues where the first employees feel like it's not the place it once was because what was a company where you could go grab a beer with friends at a table, has grown past the stage where buddies can just show up to a bar, and has graduated to the point where you need to plan events for employees.
Hopefully the vast majority of those that were with you at the early stages can look back and say: "Look what we've built and how I've grown!!"
This article was originally written by Phil Sugar and Fred Wilson on February 6, 2012 here.